Bagikan dengan temanmu
Mengapa Phil Hellmuth membuat seluruh pertunjukan dari penampilan WSOP-nya? Bagaimana Anda datang ke episode bergaya Phil Hellmuth? Ingat semua penampilan mengejutkan dari pemenang gelang WSOP 16 kali.
Tiga alasan mengapa Phil Hellmuth melakukan pertunjukan WSOP
Sejak 2005, Phil Hellmuth telah membuat penampilan epik di WSOP. "Poker Brat" tampil dengan gambar yang keren, mengelilingi rombongan gadis, kadang-kadang bahkan membawa orkestra dan penari dengan bulu – dan seluruh "brigade" ini masuk ke Acara Utama WSOP. Tapi kenapa dia melakukan ini? Ada tiga alasan yang jelas:
Alasan # 1 – Phil Hellmuth menyukai perhatian dan sangat menyukainya
Poker pro dan mantan kolumnis Pemain Kartu Adam Schoenfeld mengatakan seperti ini tentang Hellmuth:
Phil Hellmuth adalah salah satu studi kasus yang paling menarik bagi para psikolog. Seolah mentalitas bocah sembilan tahun terkandung dalam tubuh pria setinggi dua meter. Anda tidak bisa tersinggung pada Phil karena Anda tidak bisa tersinggung pada anak sembilan tahun.
Phil Hellmuth sendiri memperlakukan dirinya dengan humor dan ironi dan tidak menyangkal bahwa dia suka menjadi sorotan:
Lagipula, aku bisa menertawakan diriku sendiri. Kadang-kadang saya melihat diri saya sendiri dan berpikir: "Siapa idiot ini?" Pertunjukan di WSOP menyenangkan. Saya selalu merasa sedikit konyol. Saya 90% senang, 10% malu.
Alasan #2 – Iklan yang Bagus
Kemunculan Hellmuth selalu menjadi peristiwa yang tidak bisa dilewatkan oleh media poker. Selain gambarnya, Phil menambahkan tambalan, lambang, dan logo ke kostumnya. Hingga 2011, adalah UltimateBet, pada 2018 – Layak, dan pada 2021 – Bitcoin Latinum.
Alasan # 3 – Orang-orang menyukai penampilan Hellmuth
Penampilan Phil Hellmuth membingungkan lawan di meja. Tapi di komentar di YouTube, semua orang gila. Orang-orang menulis betapa hebatnya Phil Hellmuth dan bagaimana peran pemain sandiwara cocok untuknya. Dan mereka menjadi sedikit kesal ketika Phil muncul dengan rendah hati di WSOP. Contohnya seperti pada tahun 2011.
Tiga Tips WSOP Phil Hellmuth Style
Sepanjang waktu, Phil Hellmuth mengatur selusin pertunjukan di WSOP (termasuk WSOPE). Setelah menganalisis semua jalan keluar, kami telah menyoroti tiga kiat tentang cara tampil di episode dengan gaya Phil Hellmuth.
Tip # 1 – Terlambat, tetapi tidak terburu-buru, perlahan-lahan bergerak di sekitar aula
Hellmuth secara tradisional menelepon pada hari terakhir keterlambatan pendaftaran. Selain itu, itu adalah bentuk yang bagus untuk terlambat satu jam. Phil tidak terburu-buru, perlahan-lahan bergerak di sekitar aula (berenang seperti angsa), mengumpulkan tatapan antusias.
Tip #2 – Pikirkan gambarnya
Ada dua pendekatan: baik yang tidak mencolok, serba hitam, atau dalam setelan jas. Dianjurkan untuk memilih gambar yang dapat dikenali dari dunia di mana ada juga persaingan: balap mobil, pertempuran, pahlawan super, dll.
Tip # 3 – Anda harus membawa pengiring Anda bersama Anda
Phil Hellmuth selalu mengelilingi dirinya dengan gadis-gadis. Masing-masing melambangkan salah satu gelang WSOP. Bukan kesalahan untuk membawa orkestra dan bahkan penari bersama Anda. Itu harus berisik, keras, cerah.
2005 dan 2006 – Helmut tiba dengan limusin hitam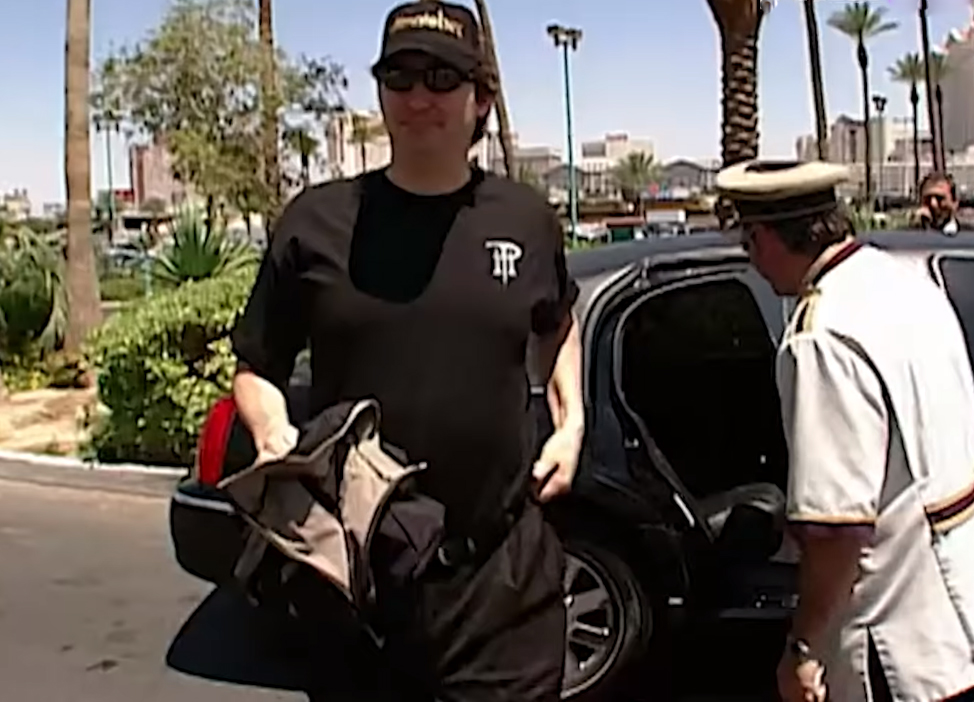 Dan jika tidak ada operator bersamanya, maka kita hampir tidak akan tahu tentang penampilan ini. Helmut tiba di hari terakhir, terlambat satu jam. Lihat: Baju Olahraga, T-shirt PH, dan topi UltimateBet. Dari pamer – sopir membuka pintu.
2007 – Helmut sebagai pembalap menabrak mobil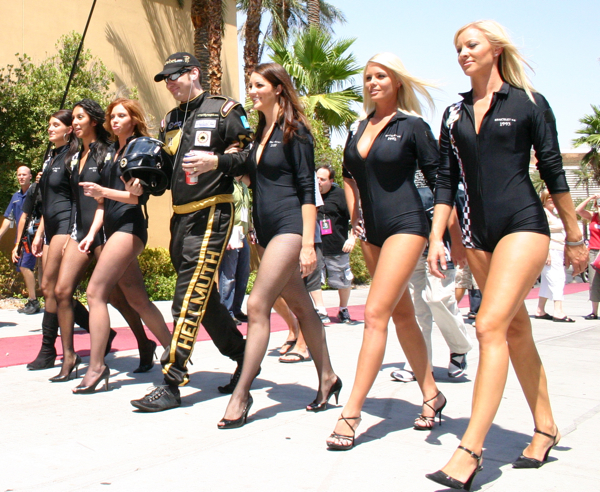 Hellmuth menyadari bahwa limusin tidak spektakuler. Dan saya memutuskan untuk berada di belakang kemudi mobil NASCAR. Sehari sebelum penampilan WSOP-nya, Phil menggebrak tempat parkir, menikmati kecepatan dan kontrol sampai jatuh ke dalam silinder semen.
Aku tidak mengerti apa yang terjadi. Saya menikmati kecepatannya, melaju lebih cepat dan lebih cepat. Saya terlihat sangat keren saat melakukan semua trik ini. Tapi dalam sekejap dia berubah menjadi idiot.
Di lapangan, Phil muncul dalam kostum pembalap, dikelilingi oleh gadis-gadis – semuanya seperti yang seharusnya untuk seorang pilot mobil sport.
2008 – Helmut sebagai Jenderal Patton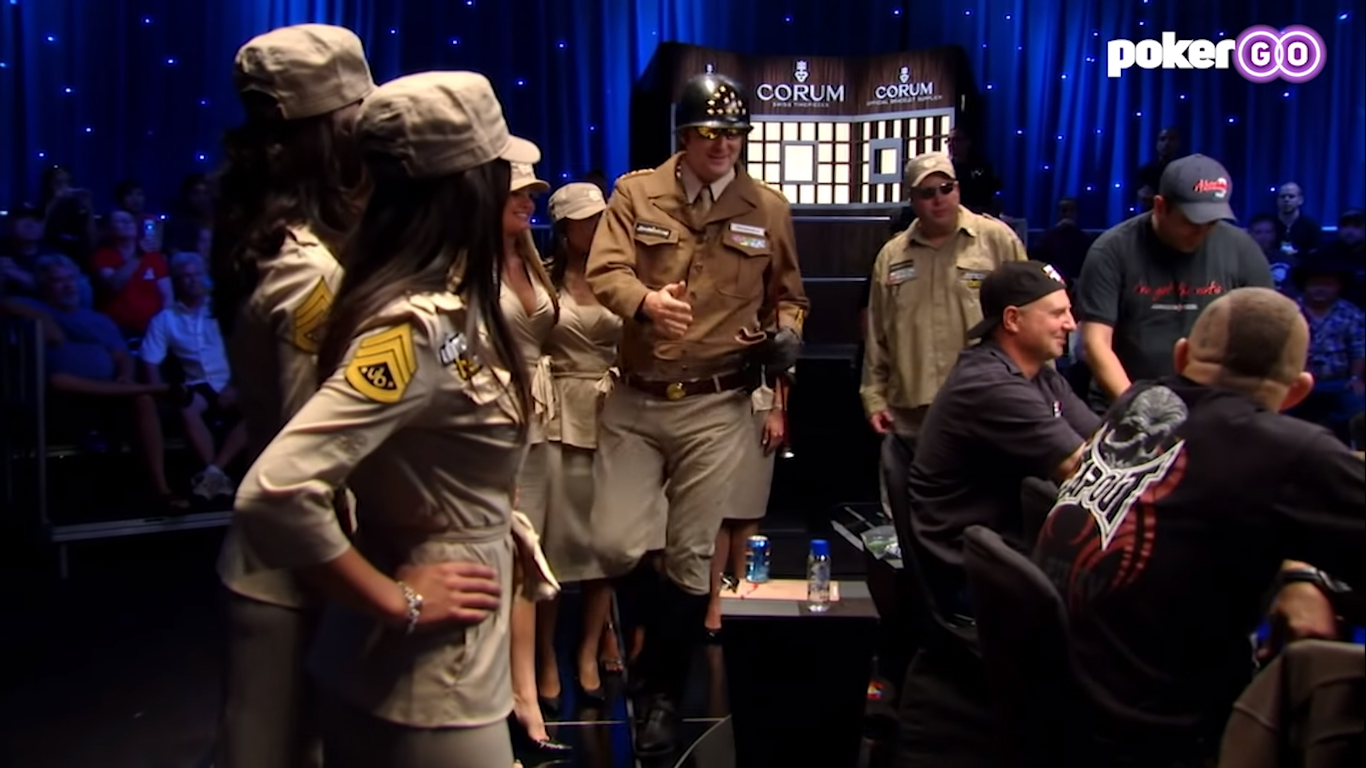 George S. Patton memiliki helm bintang 4. Hellmuth membuatnya dengan 11 bintang. Dan dia juga membawa 11 gadis bersamanya. Begini cara Phil Hellmuth menyapa lawan di meja:
Saya berpikir untuk pergi ke Afghanistan pada bulan Desember untuk mengunjungi pasukan. Saya tidak pernah bertugas di ketentaraan, tetapi saya merasa berhutang budi kepada orang-orang ini. Saya pikir saya akan datang ke mereka, mengadakan beberapa turnamen, memberikan DVD, buku …
2009 – Helmut sebagai Caesar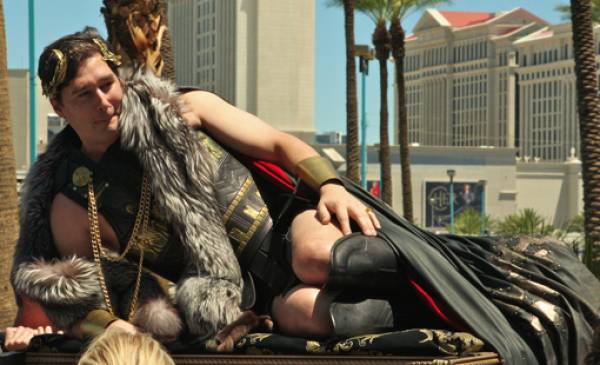 Salah satu yang paling epik penampilan adalah pada tahun 2009. Pertama, Helmut-Caesar dengan bulu dengan karangan bunga laurel emas dibawa di bahu mereka oleh empat orang yang kekar. Semua ini disertai dengan tepuk tangan meriah dan ratusan kamera. Kemudian Helmut mengambil pengiringnya dan pergi ke lokasi turnamen, ditaburi kelopak mawar
2010 – Helmut sebagai petarung MMA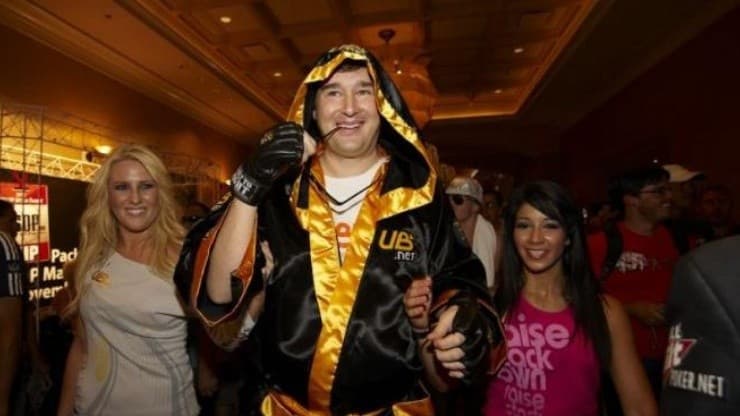 Pada 2010, Hellmuth keluar dengan mengenakan sarung tangan dan jubah tinju. Di belakangnya, gadis-gadis itu membawa 11 gelang, seolah-olah itu adalah sabuk juara. Kemudian Doyle Brunson mentweet:
Saya senang saya tidak bermain hari ini. Aku tidak perlu melihat Helmut menertawakan dirinya sendiri. Ini sangat buruk, saya tidak bisa tidak memikirkannya.
Helmut kemudian mengatur survei. Ternyata 70% penonton mendukung dandanannya.
2011 – Helmut sebagai reporter ESPN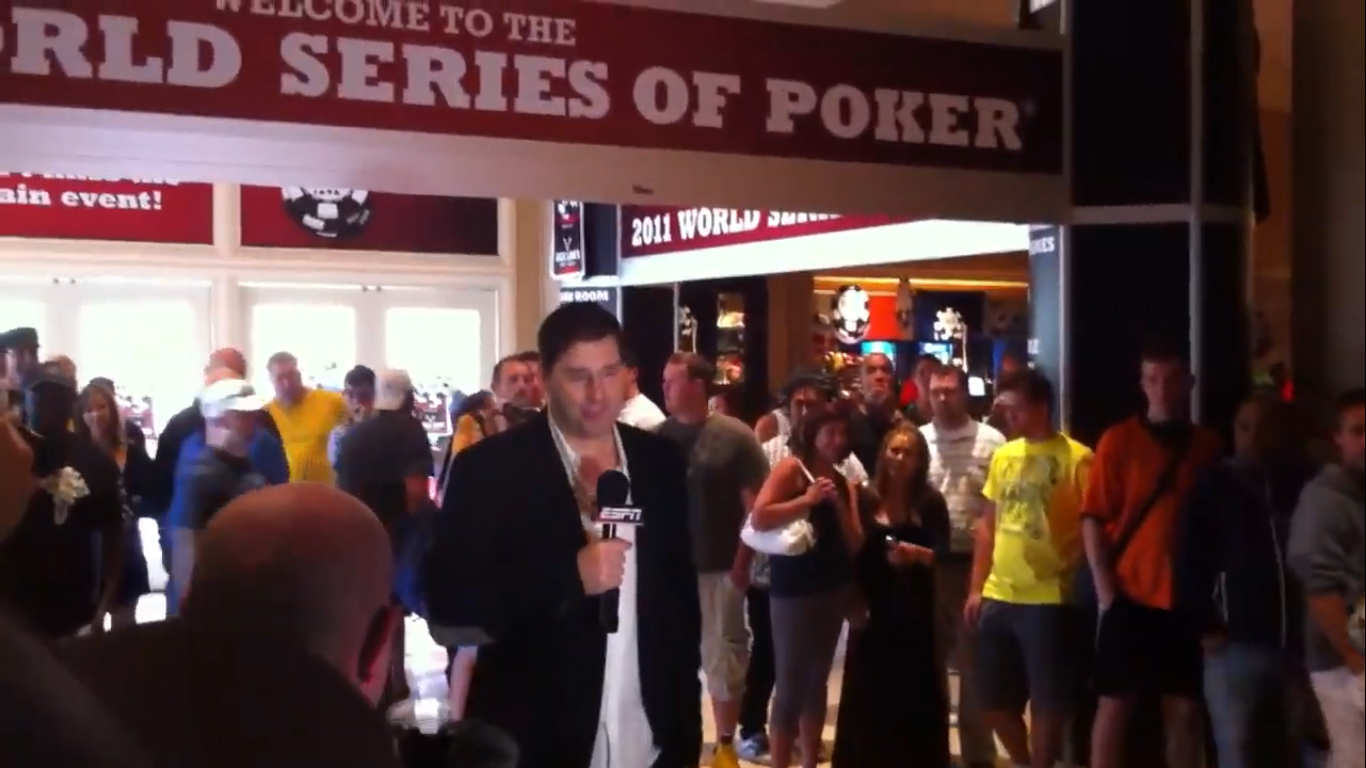 Jas hitam, kemeja putih, mikrofon ESPN. Phil melaporkan dalam perjalanannya ke lokasi turnamen. Satu-satunya tahun ketika penonton tidak menghargai output. Mungkin karena gadis-gadis itu tidak ada di sana?
2018 – Helmut sebagai Thor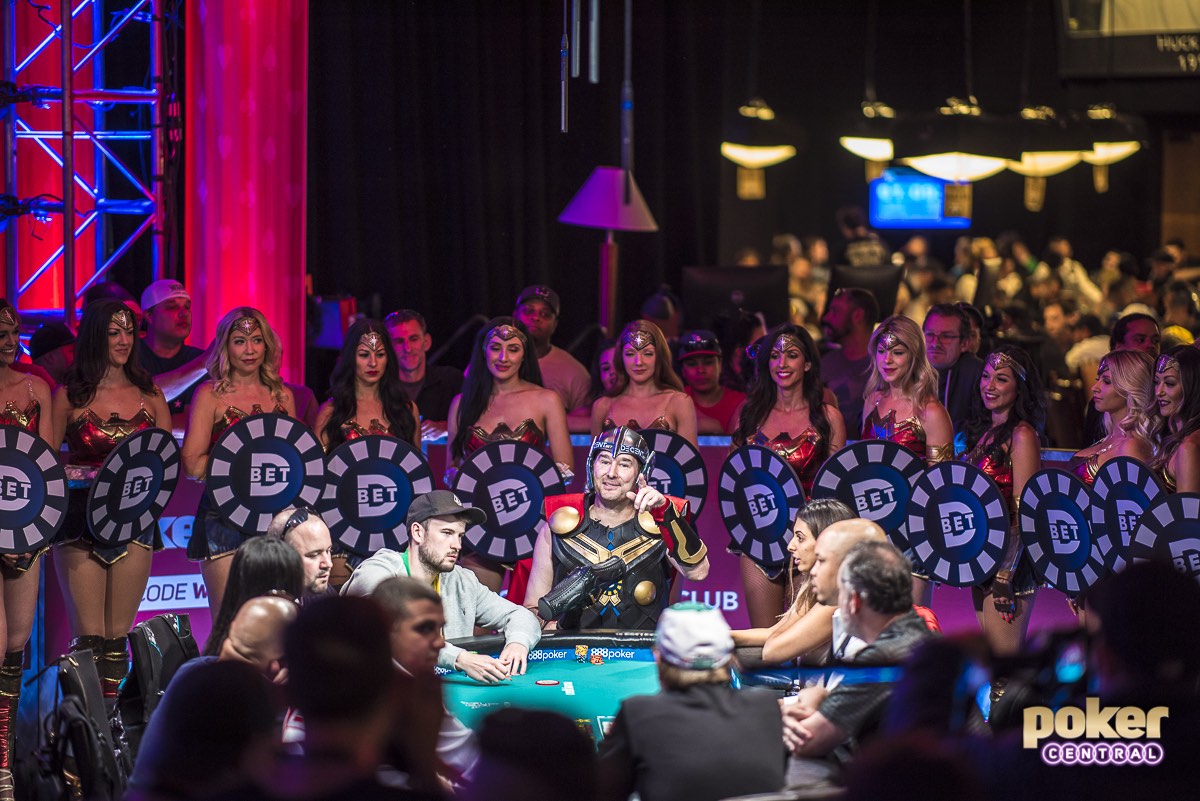 Selama tujuh tahun, Helmut beristirahat dari jalan keluar yang keterlaluan. Namun pada 2018 ia memutuskan citra Thor. Pertama, Helmut mengendarai sepeda motornya ke kasino, dan kemudian, dikelilingi oleh 12 gadis, berjalan ke mejanya. Ngomong-ngomong, awalnya Helmut mengira muncul dalam wujud Gandalf.
2021 – Helmut sebagai Gandalf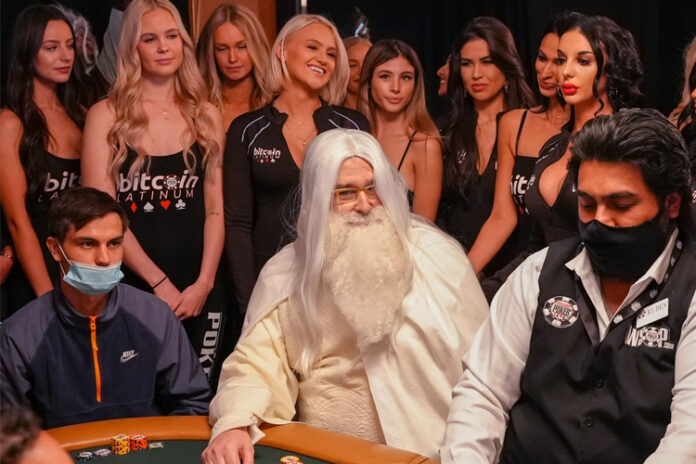 Pesulap putih Phil Hellmuth mau tidak mau memilih gambar pesulap putih lain Gandalf dari "The Lord of the Rings". Benar, pengguna di Twitter menulis bahwa Helmut ternyata adalah Sinterklas yang baik. Dan penggemar "The Lord of the Rings" mencoba mengingat dari mana semua keindahan ini berasal di Middle-earth.
Bonus! Penampilan spektakuler Hellmuth di episode lain
Walker sebagai Caesar Phil Hellmuth ulang di WSOPE London pada tahun 2009. Namun, alih-alih kuli ada kereta yang ditarik kuda.
Di WSOPE 2010 London Phil saya tiba di bus merah bertingkat dengan orkestra. Dengan "Poker Face" dengan iringan live dan dance, Helmut masuk ke ruang permainan.
Phil Hellmuth datang ke World Poker Tour Venice 2013 dengan gondola. Dia mengenakan jubah hitam dan topeng Venesia.
Di JUTAAN Amerika Selatan 2019 Phil Hellmuth saya tiba ditemani oleh gadis-gadis menari samba dengan iringan drum live.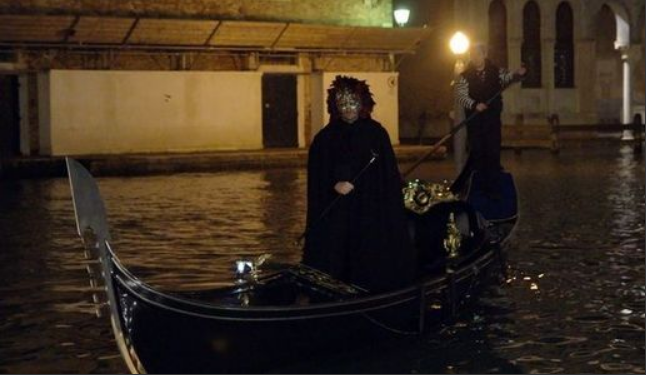 Apa pintu keluar Phil Hellmuth favorit Anda? Bergabunglah dengan pemungutan suara di kami Telegram.